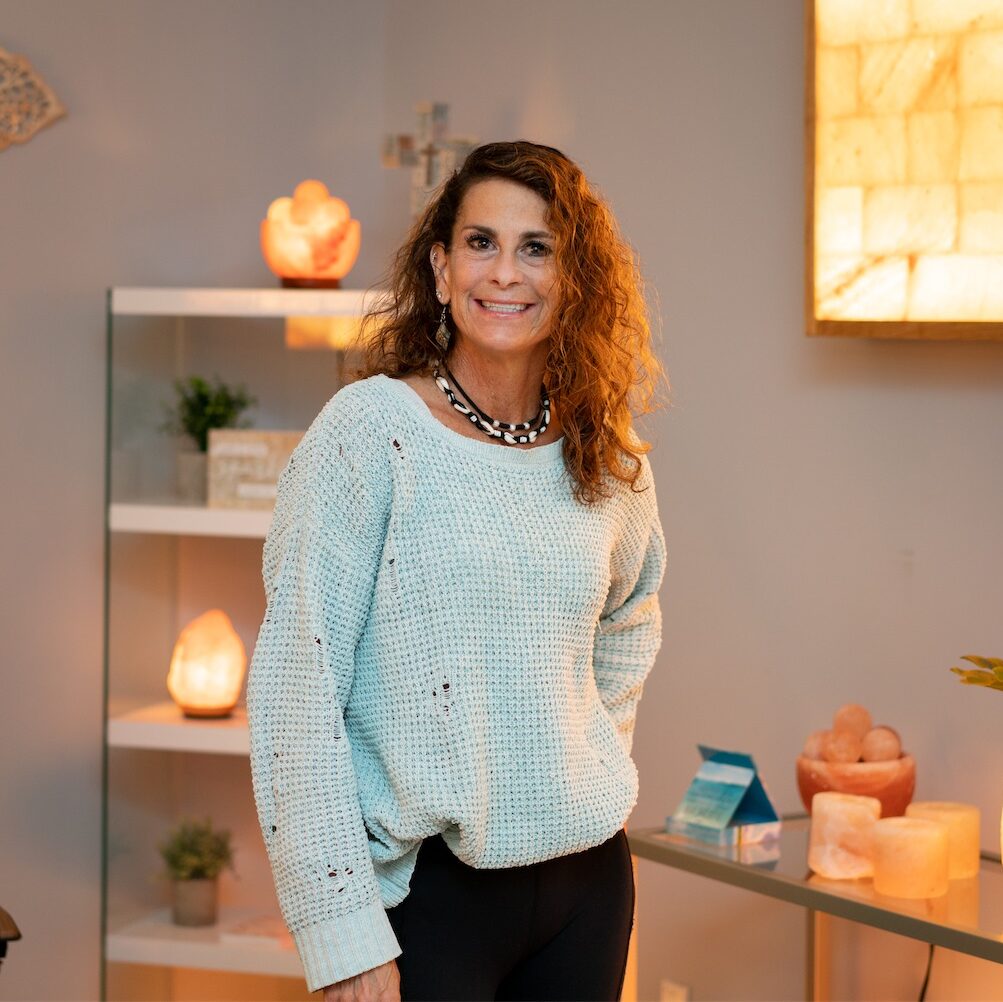 Welcome to Rejuvenate You!
Our brand new Tranquility Center is a revolutionary health and wellness option designed to give visitors ultimate control over their own medspa experience. Three separate rooms with multiple self-serve treatments make up the space. Our unique set up allows visitors to benefit from a wide variety of natural, relaxing therapies on their own time at a low, hourly rate.
The service options inside the space are designed to complement each other and bring you to a place of complete relaxation. Visitors can move as they see fit between red light therapy, infrared sauna sessions, a Himalayan salt therapy room (also known as halotherapy), and an open area for meditation, prayer, yoga, and stretching.
I hope to see you soon!
– Dr. Paula J
THE HALOTHERAPY ROOM


Our Himalayan salt therapy room (also known as a halotherapy salt room) is filled with special salt panels, and salt lamps. Salt therapy is a relaxing, natural treatment that entails sitting in a room filled with therapeutic and healing salt! Breathing in dry salt particles helps the respiratory system address a wide range of ailments. These can include asthma, allergies, COPD, sinusitis, cystic fibrosis, smoker's cough, and bronchitis. On top of this, salt therapy room treatments may help boost the immune system, eliminate stress and sleeplessness, and treat many skin-related issues like acne, dry skin, psoriasis, loose skin from aging, and rosacea.
THE HEALING LIGHT ROOM


This space offers red light panels in addition to full-spectrum infrared exposure in an industry-leading Sunlighten unit. Possible benefits of light therapy and/or full-spectrum sauna session work include pain relief, lung health, and increased energy.
THE REBOOT AND RECHARGE ROOM


Our state-of-the-art "Reboot and Recharge Room" is the heart and soul of the Tranquility Center. Here you can take time out for yourself between halotherapy and light therapy to align your body and mind. This space is dedicated to meditation, prayer, yoga, and stretching. It is a sanctum for you to connect with yourself and center your journey toward total wellness.
Now open!
Purchase one hour for $59.
The Tranquillity Center is located directly next door to Rejuvenate You, providing a convenient, walk-in wellness option. Supplement your self-care with an hour of pure tranquility whenever it fits into your schedule.
No reservations required!
We will be open 11AM–6PM every Monday through Friday.
Come by and say hi!